---
Blizz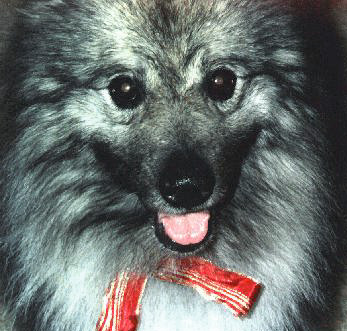 Blizz, a.k.a. Blizzard-boy, was a two and half to three years old when he came to us February 12, 1998. We referred to him as our Valentine's boy. The early part of his life is a mystery, but in February of '98, it is known that he spent two to three weeks running loose through Pittsburgh. He was very matted when he arrived and looked very light in color so he was called Blizzard. After removing all that extra undercoat, he didn't look like a blizzard any more.
When he first came to us, he was a bit grumpy, when the other dogs would play. He didn't seem to understand this frivolity. We had bought a plush stuff hippo that he and Moon Dancer shared. We think it was the first toy that he had ever had. He would wash it and sleep with it, as though it was his baby. He learned to play with the other dogs and became quite fond of them. He was also quite protective of us and the other dogs, especially Diva. Even though Diva was our alpha dog and he respected that, it was not beyond Blizz to keep other dogs in line if they gave Diva a hard time. After all, Diva was HIS woman!
Blizz lived with us for five months before going to his forever home. He was adopted by a wonderful couple, who already had one Kees and knew, like most of us owned by this breed, that Keesies are like potato chips, you can never have just one. ;-) Blizz is playful, but is also perfectly content just getting his belly rubbed and is not above giving come hither looks to get it! He is also quite talented at giving soulful looks to get treats. Blizz spent a lot of time looking for someone to love. Now, he is their Valentine every day of the year!
(P.S. Blizz says thanks to Bonny and Kate for bringing me to KRR.)